WatchDog-POS Features & Functionality
WatchDog-POS by DimenXional Cloud Technologies was specifically designed to seamlessly integrate with the new cloud inventory management solution from FishBowl named "BoxStorm".
FishBowl has designed Boxstorm as the perfect cloud-based inventory solution for SMB's. Its powerful features and capabilities streamline inventory management and give business owners more flexibility by allowing them to manage their inventory from any location, on any device.
What BoxStorm does not have in its terrific feature set is a Full-Function "Point of Sale" ("POS"). DimenXional Cloud Technologies has targeted this key missing feature by developing WatchDog-POS. Originally targeted at the "Direct Store Distribution" market, DimenXional Cloud Technologies has engineered WatchDog-POS with a wide feature set that addresses many other markets that need a portable POS.
Most importantly, WatchDog-POS provides two modes of operation
Mode #1: WatchDog-POS connected to BoxStorm via any available internet connection
However, what DimenXional Cloud Technologies learned through collaborative early customer efforts is that a great POS not only works ONLINE but also works OFF-LINE
Mode#2: WatchDog-POS can be disconnected from BoxStorm while still providing the full suite of POS features. When an internet connection is available, WatchDog-POS can upload and update all OFF-LINE use to BoxStorm.
WatchDog-POS Feature Set Consists of:
Application Initial Page

Sign in to use WatchDog-POS ON-LINE with BoxStorm
Select to use BoxStorm in an "OFF-LINE" mode
Review the WatchDog-POS Tutorial

Signing into and using WatchDog-POS ON-LINE with BoxStorm

Download all

Current Customer Information
The complete BoxStorm inventory
Inventory Location information
Payment Terms
Sales Tax Information
Units of Measure Table

View all Sales Orders

By Cash Sales
By Charged Sales
By any other Type of Sale entered into BoxStorm

Terms and Conditions of Sale (Note: Requires a website page with the specific Terms and Conditions of Sale)
Create a New Account
Update an Existing Account
View the Current Inventory downloaded from BoxStorm
Connect the DCT-947HMCS Scanner to the DCT-400P Mobile Thermal Printer
Configuration Tools via the Setup Pages

Seller Information
Driver Information
Customer Discount Setup or Update
Last But, Not Least, Everything Necessary to "CREATE AN ORDER" Including:
The Customer Information
1D or 2D Scanning of Product Bar Code Information
Manual Data Entry of Products
Editing or Removing Products from an Order
Crediting Customer Product Returns
Sales Tax (if required)
Order Review Page with Editing Capability
Printing the Order without a Signature for Cash Sales
Printing the Order with a Signature for Credit Sales
Specifications of the DCT-947HMCS Handheld Android Phone & Bar Code Scanner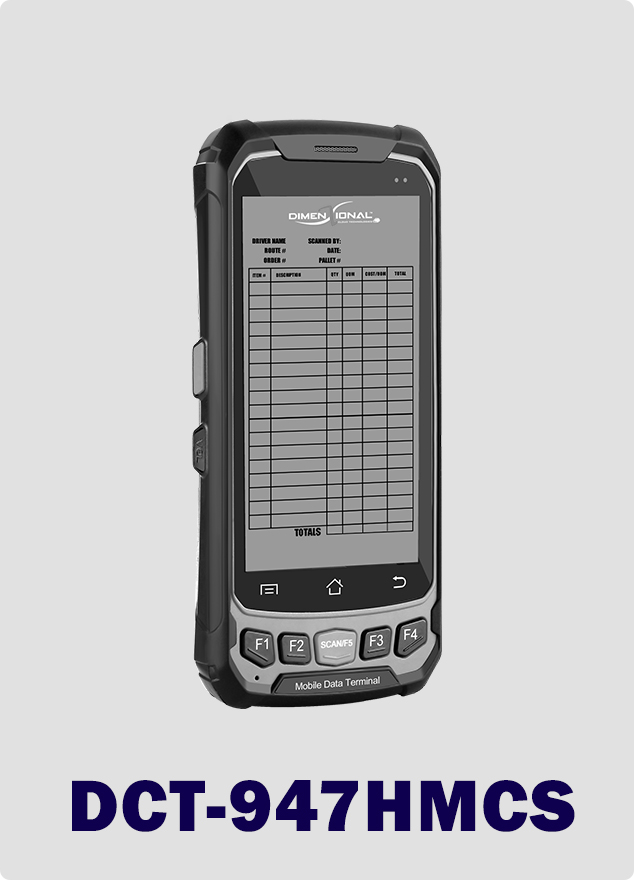 PHYSICAL CHARACTERISTICS
Dimension: 162mm(H)x78mm(W)x22mm(D)±2 mm
Weight Net Weight: 12.5 ounces (including battery wrist strap)
Display: Gorilla Glass 3 9H 4.7 in. TFT-LCD (720×1280) touch screen with backlight
Backlight: LED backlight
Keypads: 3 TP keys, 5 function keys, 4 side buttons
Expansions: 2 PSAM, 1 SIM, 1 TF
Battery: Rechargeable li-ion polymer, 3.8V, 4750mAh
PERFORMANCE CHARACTERSTICS
CPU: Quad A53 1.3GHz quad-core
Operating System: Android 7.0
Storage: 2GB RAM, 16GB ROM, MicroSD (max 32GB expansion)
USER ENVIRONMENT
Operating Temp.: -20°C to 50°C
Storage Temp.: -20°C to 70°C
Humidity: 5%RH to 95%RH (non-condensing)
Drop: Specifications 5ft./1.5 m drop to concrete across the operating temperature range
Sealing: IP65, IEC compliance
ESD: ±15kv air discharge, ±8kv direct discharge
DATA COMMUNICATIONS
WWAN TDD-LTE Band 38, 39, 40, 41; FDD-LTE Band 1, 2, 3, 4, 7, 17, 20 WCDMA (850/1900/2100MHz);
GSM/GPRS/Edge (850/900/1800/1900MHz)
WLAN   2.4GHz/5.8GHz Dual Frequency, IEEE 802.11 a/b/g/n
WPAN   Bluetooth Class v2.1+EDR, Bluetooth v3.0+HS, Bluetooth v4.0
GPS        GPS (embedded A-GPS), accuracy of 5 m
DATA CAPTURE
1D barcode: 1D laser engine Honeywell N4313/Symbologies All major 1D barcodes
2D barcode: 2D CMOS Imager Newland EM3296 or EM3396/Symbologies PDF417, MicroPDF417, Composite, RSS, TLC-39, Datamatrix, QR code, Micro QR code, Aztec, MaxiCode, Postal Codes, US PostNet, US Planet, UK Postal, Australian Postal, Japan Postal, Dutch Postal. etc.
COLOR CAMERA
Resolution: 8.0 megapixel
Lens: Auto-focus with LE
Specifications of the DCT-R400 Compact 4-in Mobile Thermal Printer
Features
Printing method: Direct thermal line printing
Characters per line: 92cpl (MAX)
Character size:   English 9x24dots, 12x24dots
Resolution: 203dpi, 8dots/mm
Print width: 4-inch (72mm, 576dots)
Printing speed: 70mm/sec (MAX)
Dimensions (WxDxH): 150.9 x 135.7 x 63.3 mm
Weight: 20 ounces
Interface: UART (RS-232C or TTL), Bluetooth Ver 2.1 + EDR, IrDA Ver1.0(SIR)[option], USB[option] Wireless LAN interface(IEEE802.11b/g) [option]
Paper supplied:  Thermal roll paper (113mm wide, 50ø),
Paper thickness: 60±5µm
Barcode:

1D barcodes: Code128, Code39, I2/5, Code93, UPC-A, UPC-E, EAN8, EAN13, CODABAR
2D Barcodes: PDF417, QR Code, DATA Matrix, Micro PDF417, Truncated PDF417

 Drivers: Microsoft Windows 7 /Windows CE/ Linux/ Android
 Black mark: Support black mark detection
 H/W Specifications: CPU/32bit RISC, FLASH/4Mbytes, RAM/8Mbytes
 Receive buffer size: 1Mbytes
 LCD: 128*32 Dots FSTN (Blue LED Backlight)
 Battery : Rechargeable 7.4V DC 1,400mAh / 1,800mAh / 2,200mAh (Li-ion)
 Battery Continuous Use: 1-hour continuous printing
 AC adapter: Input (100~250VAC, 50~60Hz) / Output(8.4VDC/0.8A), 4hours full charge time
 Operating temperature  -10°C ~ 50°C
 Storage temperature     -10°C ~ 70°C