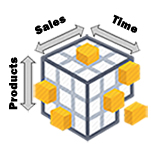 Increase Operations Efficiency and grow Free Cash Flow with DimenXionSoft built MS -Power BI!
To enhance operations, you need the right information at the right time. Make sense of FishBowl exports, reports, your disconnected spreadsheets, systems, databases and applications!
DimenXionSoft solves the Business Intelligence problem by bringing all your business and FishBowl data together within MS-Power BI. See all your critical information in one place & use it to make faster, better-informed decisions!